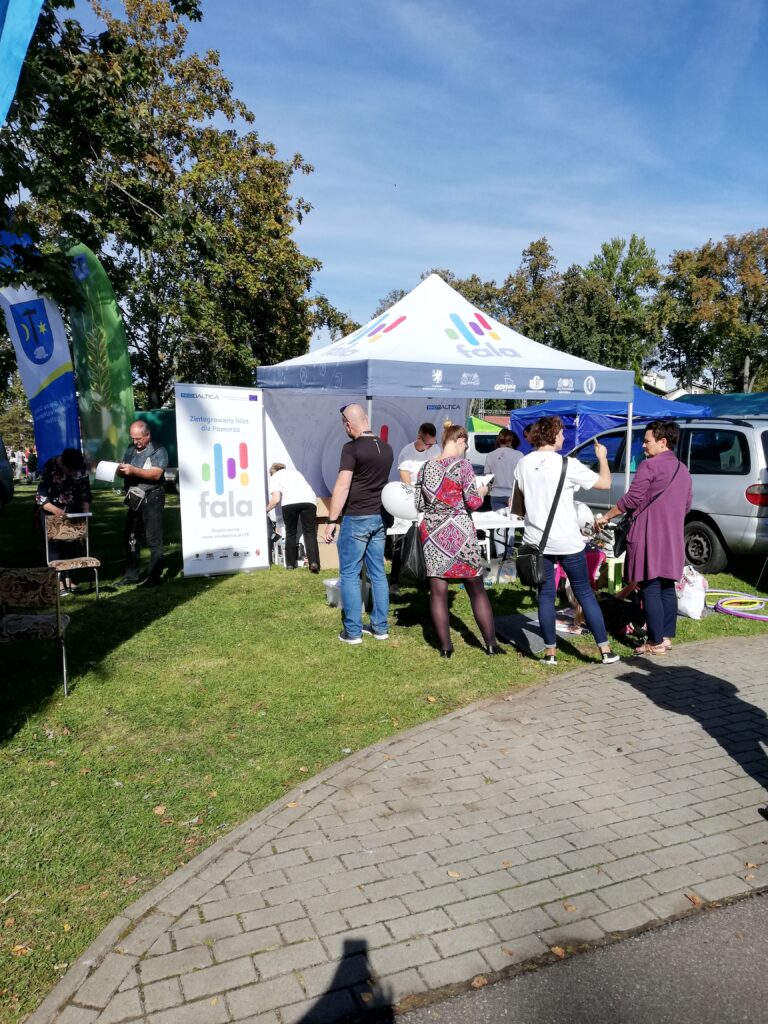 A great event and a great opportunity to have fun was our meeting with the inhabitants of Pomerania during the provincial harvest festival in Kartuzy. Interviewers collecting opinions on the Fala ticketing system invited the participants to a discussion on public transport, and children were encouraged to play games related to ecology and travel. 
The meeting was held on Sunday, 22 September, as part of the implementation of the measure entitled "Marketing analysis for the development of a set of products within the Platform of Integrated Mobility Services(...)". The aim of the task is to obtain information from Pomeranian inhabitants/passengers and potential passengers of public transport and then to create a special analysis that will allow to prepare the Fala ticketing system in such a way that it will be people-friendly and acceptable for passengers using trains, buses, trams and trolleybuses. 
Let us remind: the Fala system is a platform that integrates all types of public transport available in Pomerania. Its assumption is to lead to a situation in which the passenger does not have to worry about where and how much he or she should buy a ticket. They will be provided with tools (e.g. phone application, transport card), which will enable them to pay for travel cashless. 
The system itself will recognise the route taken and how much you have to pay for it. At the end of the day, the system will debit the calculated amount from the passenger's account, but under the assumption that all possible discounts, rebates and fare solutions have been applied. 
All a passenger will have to do to benefit from all these facilities is to register with the system at the outset and enter their details, which will enable the platform to determine what statutory and local concessions can be charged to the person. 
The meeting with the inhabitants of Pomerania in Kartuzy is the first in a series of meetings planned for September, October and November. We will keep you informed about other places where we will appear with our stands.
Anyone who is interested in finding out more about the FALA system or would like to give us feedback on it is welcome to contact us by email: innobaltica@innobaltica.pl or call 58 712 95 22.
See also below a gallery with photos from the event.
The activity is co-financed by the ELENA financial instrument as part of the BIT System for Pomerania project. Have a look at the project website.